General Information
Brief description of organization
We started Matigan because we believe art can help. Art is border less and so are artists. We aspire to give equal opportunity to all artists around the world, regardless of race, gender, location, or religion, to elevate their voice in European society. It sounds simple, but we believe our modern society still has a long way ahead to accomplish equality of all people.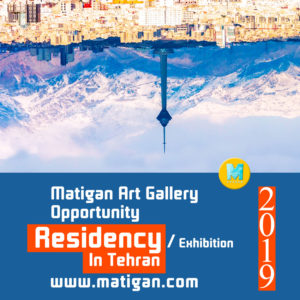 We want to provide a platform for emerging artists all over the world—from the Middle East to America, from Africa to Australia—who are less heard. We aspire to create a multicultural, international society of artists, fostering a space for artists to share their thoughts on political issues and social obstacles in their own land and ideas for improvements. Benefiting from a variety of different points of views and experiences, the artists, the work they create, and the people they will affect will evolve. Our aim is to support emerging artists of all mediums and from all backgrounds.
Artists-in-residence are selected by their proposals submitted by an online open call. Matigan in Tehran pays special attention to those projects that attempt to make discussion and suggestion about lands, the meaning of it, embracing the differences and similarities and also traveling. Other proposals are also accepted.
Brief description of Tehran residency program
Matigan is an independent and nonprofit artist-in-residence and gallery center in the visual art located in the city of Berlin, capital of Germany.
In Tehran residency we give our artists the chance to experience the beautiful and mysteries land of Iran ,make art and new friends and travel around the country
The main MISSION is to promote contemporary artistic practices that involve Visual Art, Painting, drawing, Illustrating, graphic design, printmaking, photography, design and new media. Exploring their mutual interfaces, as well as the capacity of multiple, through research and production residencies; to foster exchange, discussion, experimentation and collaboratively work is also one of the principal goals.
Matigan is an Inspiring place for art, culture and creativity, only in its kind in Berlin where achieves to unite artists around the world and to short the distances between old and new technologies and artistic genres.
Studio/ workspace
1 month residency with association of Doona residency: a 1 bed room flat, you can use it as your studio and a place to live in, its 3 minute walk to a bus station and 12 minutes to the subway station.
2 weeks residency with association of Olka Art house: 1 room inside a 3 floor art complex, there are other exhibitions, art talks and events happening at the same time and also a café in the whole building, the complex is located in the middle of the city where all the artistic and cultural events are happening.
Fees and support
The cost for the 1 month residency is 340 euro and the cost for 2 weeks residency is 200 euro (19% percent VAT will be added to these numbers). The fee includes your sleeping quarters, a large shared studio space, and a final Art talk and question and answer session with a live audience. If chosen, 50 euro deposit will be due on the time of full registration.
Letters of support can be provided by Matigan for granting purposes.
Regretfully, we are unable to provide honoraria or stipends to cover travel or the fees associated with attending this residency. Matigan Point is happy to provide letters of support to any funding programs to which artists wish to apply.
We encourage applicants to pursue funding opportunities afforded them by their national, regional, local and departmental funding agencies.
These 2 weeks and 1 month self-directed residency are self-funded residency for 1 to 2 people.
How can I apply?
Just send us an email to: matigan.art@gmail.com with the title of Matigan Art Residency Proposal, your email should include 1 PDF which consists of your artistic resume, your proposal and your portfolio that is 10 images of your recent works, for videos you can send us link or drop box access.
Expectations of the artist
An artist Talk and a question and answer session
Selection procedure
By Matigan Committee
Resources
Internet Connection
Chance of Exhibition
Kitchen (full equipped plus coffee maker and tea)
Shower and toilets
Accommodation
Private flat (for 1 month)
Private room (for 2 weeks)
Working language(s)
English
Other activities may be happening at the space
Workshops
Presentation
Exhibitions
Residency
Films